About Washington / Baltimore HIDTA
Serving D.C., Maryland,
Virginia, and West Virginia
Vision
Within the next five years, our efforts to dismantle and disrupt drug trafficking and money laundering organizations, provide treatment resources, and develop drug prevention programs will save lives and strengthen communities and families in the Washington/Baltimore HIDTA region.
Mission
To reduce drug trafficking and misuse by improving interagency collaboration, promoting accurate and timely information and intelligence sharing, and providing specialized training and other resources to its law enforcement, intelligence, treatment, and prevention initiatives. To accomplish its mission, the Washington/Baltimore HIDTA will strategically apply its resources to initiatives designed to save lives, prevent initiation of drug use, and apprehend drug traffickers and money launderers.
Disrupt the market for illegal drugs by dismantling or disrupting drug trafficking and/or money laundering organizations
Improve the efficiency and effectiveness of HIDTA initiatives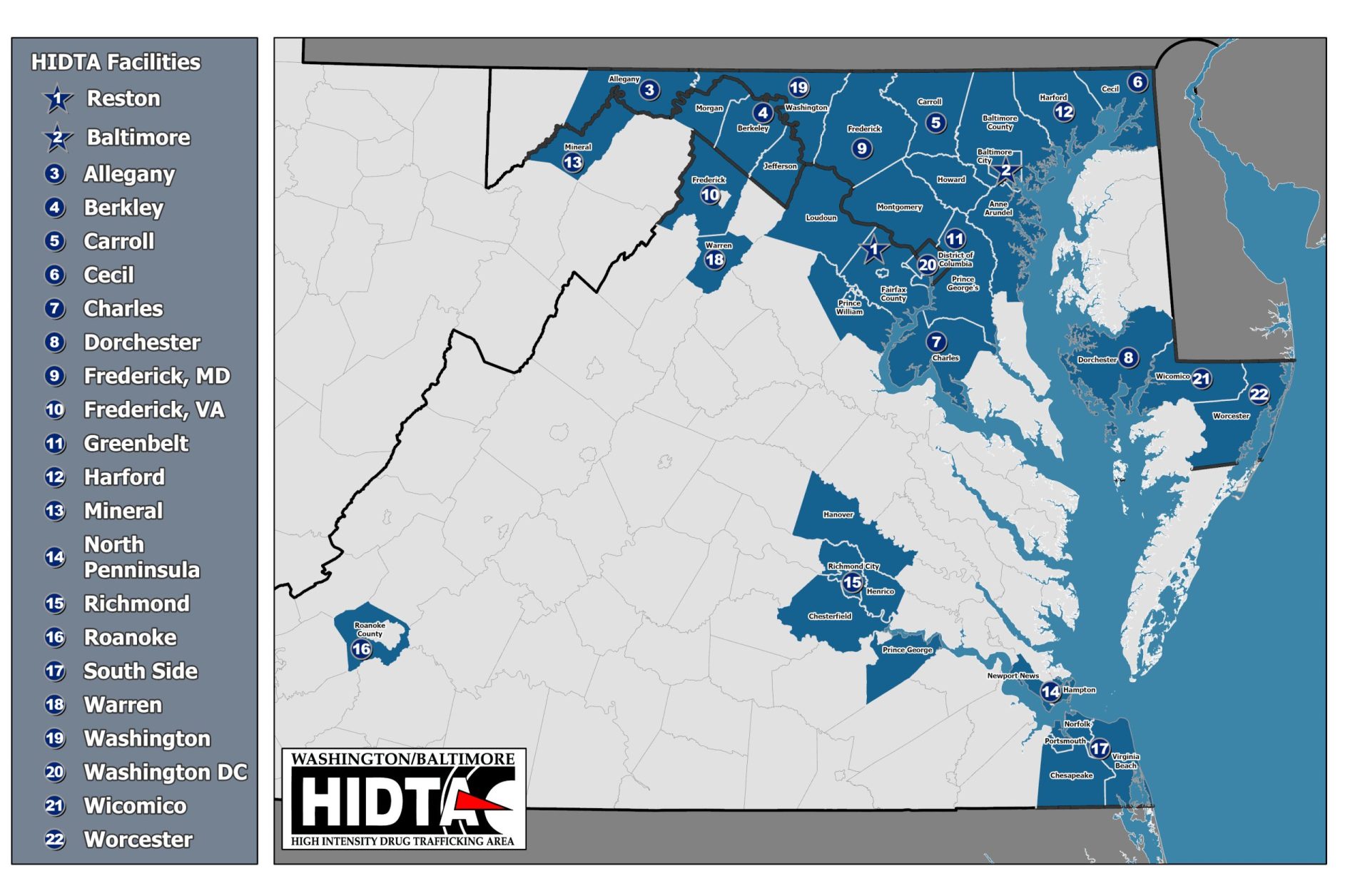 Washington/Baltimore Region
Since its designation as a High Intensity Drug Trafficking Area by the Office of National Drug Control Policy in 1994, the Washington/Baltimore HIDTA (W/B HIDTA) region has grown from 13 jurisdictions to 29 counties and 15 cities in Virginia, Maryland, and West Virginia, and the District of Columbia. These counties and cities include major metropolitan areas, such as Washington, DC, Baltimore, Richmond, Roanoke, and Norfolk; suburban communities; small towns; and traditionally rural areas.
The W/B HIDTA region encompasses approximately 12,099 square miles, or approximately one-sixth the land area of Maryland, Virginia, West Virginia, and the District of Columbia. Approximately 11.6 million people reside in the region, including 100 percent of the population in the District of Columbia, 93 percent of Maryland, 61 percent of Virginia, and 11 percent of West Virginia. Overall, approximately two-thirds of the total population of these four jurisdictions is located in a designated HIDTA area.