About Washington / Baltimore HIDTA
Leadership
Executive Board
An executive board comprised of Federal, state, and local representatives from law enforcement, treatment, prevention, public safety, and criminal justice agencies from across the region, and an executive director lead the W/B HIDTA. The executive board assesses the drug trafficking threats found in the region; develops a strategy to address the threats; designs initiatives to implement the strategy; and proposes funding needed to carry out the initiatives.
Chairperson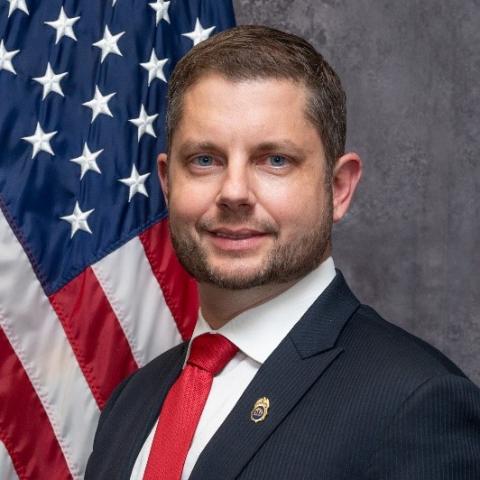 Special Agent in Charge Jarod Forget
U.S. Drug Enforcement Administration
Executive Board Chairperson
Jarod A. Forget assumed the position of Special Agent in Charge(SAC) of the Washington Division in January 2020. The Washington Division consists of the District of Columbia, Maryland and Virginia. SAC Forget most recently served as assistant special agent in charge (ASAC) of the Washington Division. As the ASAC, SAC Forget oversaw groups across Northern Virginia, Maryland, and D.C., and established the new D.C. Heroin-Violent Crime Task Force. This task force focuses on violent heroin and fentanyl suppliers responsible for drug overdoses across the region.
SAC Forget joined the DEA in 2004, as a special agent assigned to DEA's New York Drug Enforcement Task Force. While in New York, he led numerous national and international investigations into violent, large-scale drug trafficking and money laundering organizations, and received numerous prestigious awards for his work. From there, he spent a number of years working at the Guadalajara, Mexico Office, directing many high-profile enforcement operations against Mexico's most notorious and ruthless drug cartels, such as the Sinaloa Cartel and the New Generation Jalisco Cartel.
Throughout his career, SAC Forget held leadership positions in the Miami Division, the Office of Professional Responsibility, and the Washington Division. He has led many global enforcement operations, worked to disrupt violent, large-scale, international drug trafficking organizations, shut down illicit opioid dealers from China and Mexico, and established collaborative strike forces to combat local community issues such as violent crime and opioids.
SAC Forget has a passion for the value of community-oriented policing, helping families affected by overdose, and keeping our neighborhoods safe from the scourge of violence that drug trafficking can bring. In addition, SAC Forget is keenly interested in local youth development through outreach and engagement organizations, and plans to continue and develop community outreach programs throughout the region.
SAC Forget is a Massachusetts native, earned a bachelor's degree in political science and a master's degree in international affairs from Northeastern University, and is a fluent Spanish speaker.
Federal Members
Special Agent in Charge Jarod Forget
Drug Enforcement Administration,
Washington Division Office
Special Agent in Charge Charlie Patterson
Bureau of Alcohol, Tobacco, Firearms, and Explosives, Washington Field Office
Special Agent in Charge Wayne Jacobs
Federal Bureau of Investigation,
Washington Field Division
United States Marshal Johnny Hughes
United States Marshals Service,
District of Maryland
Special Agent in Charge Tom Sobocinski
Federal Bureau of Investigation,
Baltimore Field Division
Special Agent in Charge Raymond Villanueva
Department of Homeland Security Investigations, Washington Field Office
Erek Barron
U.S. Attorney for the District of Maryland
Special Agent in Charge Tim Jones
Bureau of Alcohol, Tobacco, Firearms, and Explosives, Baltimore Field Office
Special Agent in Charge James Mancuso
Department of Homeland Security Investigations, Baltimore Field Office
Richard Tischner, Director
Court Services and Offender Supervision Agency
United States Marshal (Vacant)
United States Marshals Service, Eastern District of Virginia
Robert Anthony Dixon
United States Marshals Service,
District of Columbia
Christopher Kavanaugh
U.S. Attorney for the Western District of Virginia
Postal Inspector in Charge GL Torbenson (Acting)
United States Postal Inspection Service, Washington Division
William Ihlenfeld, II
U.S. Attorney for the Northern District of West Virginia
Jessica Aber
U.S. Attorney for the Eastern District of Virginia
Matt Graves
U.S. Attorney for the District of Columbia
State Members
Colonel Woodrow Jones
Superintendent, Maryland State Police
Colonel Gary Settle
Superintendent, Virginia State Police
Yesim Karaman
Maryland Governor's Office of Crime Prevention, Youth, and Victim Services
Robert Green, Secretary
Maryland Department of Public Safety and Correction Services
Colonel Jan Cahill, Superintendent
West Virginia State Police
Local Members
Commissioner Michael Harrison
Baltimore Police Department
Marilyn Mosby
State's Attorney for Baltimore City
Suzanne Somervillle, LCSW
Bureau Chief, Arlington County Substance Abuse Center
Chief Gerald Smith
Richmond Police Department
Chief Malik Aziz
Prince George's County Police Department
Chief Robert Contee
Metropolitan Police Department
District of Columbia
Chief Charles Penn
Arlington County Police Department
Chief George Swartwood
Martinsburg Police Department
Sheriff Jeffrey Gahler
Harford County Sheriff's Office
Sheriff Michael Chapman
Loudoun County Sheriff's Office
Chief Howard Hall
Roanoke County Police Department
Chief Mark Talbot
Hampton Police Division