About Washington / Baltimore HIDTA
Leadership
Executive Board
An executive board comprised of Federal, state, and local representatives from law enforcement, treatment, prevention, public safety, and criminal justice agencies from across the region, and an executive director lead the W/B HIDTA. The executive board assesses the drug trafficking threats found in the region; develops a strategy to address the threats; designs initiatives to implement the strategy; and proposes funding needed to carry out the initiatives.
Chairperson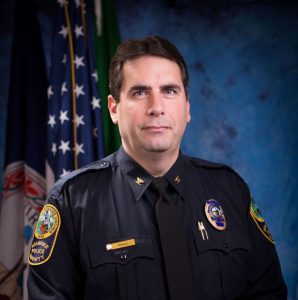 Chief Howard Hall
Roanoke Police
Executive Board Chairperson
Chief Hall joined the Roanoke County Police Department in 2012 after a 25-year career in the Baltimore County Police Department (BCPD). He is a certified instructor and recognized expert in data-driven policing. During his service at the BCPD, Chief Hall gained experience in patrol, traffic, special operations, administration, accreditation compliance, and other specialties.
Chief Hall earned a B.A.in Government and Politics, a Master of Public Administration, and a Graduate Certificate in Police Administration. He attended the FBI National Academy and currently serves at the president of the Virginia Association of Chiefs of Police.
Federal Members
Special Agent in Charge Jesse Fong
Drug Enforcement Administration,
Washington Division Office
Special Agent in Charge Ashan Benedict
Bureau of Alcohol, Tobacco, Firearms, and Explosives, Washington Field Office
Special Agent in Charge James A. Dawson
Federal Bureau of Investigation,
Washington Field Division
United States Marshal Johnny Hughes
United States Marshals Service,
District of Maryland
Mike Sherwin
Acting U.S. Attorney for the District of Columbia
Zachary Terwilliger
U.S. Attorney for the Eastern District of Virginia
Special Agent in Charge Jarod Forget
Drug Enforcement Administration
District of Columbia
Special Agent in Charge Charlie Patterson
Bureau of Alcohol, Tobacco, Firearms, and Explosives, Washington Field Office
Special Agent in Charge Jennifer Boone
Federal Bureau of Investigation,
Baltimore Field Division
Special Agent in Charge Raymond Villanueva
Department of Homeland Security Investigations, Washington Field Office
Jonathan Lenzner
Assistant U.S. Attorney for the District of Maryland
Special Agent in Charge Tim Jones
Bureau of Alcohol, Tobacco, Firearms, and Explosives, Baltimore Field Office
Special Agent in Charge John Eisert
Department of Homeland Security Investigations, Baltimore Field Office
Richard Tischner, Director
Court Services and Offender Supervision Agency
Special Agent in Charge James Mancuso
Homeland Security Investigations
Baltimore Field Office
United States Marshal Nick Proffitt
United States Marshals Service, Eastern District of Virginia
Robert Anthony Dixon
United States Marshals Service,
District of Columbia
Daniel Bubar
Acting U.S. Attorney for the Western District of Virginia
Postal Inspector in Charge Peter Rendina
United States Postal Inspection Service, Washington Division
Randolph Bernard
Acting U.S. Attorney for the Northern District of West Virginia
Raj Parekh
Acting U.S. Attorney for the Eastern District of Virginia
Channing Phillips
Acting U.S. Attorney for the District of Columbia
State Members
Colonel Woodrow Jones
Superintendent, Maryland State Police
Colonel Gary Settle
Superintendent, Virginia State Police
V. Glenn Fueston, Director
Maryland Governor's Office of Crime Prevention, Youth, and Victim Services
Robert Green, Secretary
Maryland Department of Public Safety and Correction Services
Colonel Jan Cahill, Superintendent
West Virginia State Police
Local Members
Commissioner Michael Harrison
Baltimore Police Department
Marilyn Mosby
State's Attorney for Baltimore City
Suzanne Somervillle, LCSW
Bureau Chief, Arlington County Substance Abuse Center
Chief Peter Newsham
Metropolitan Police Department
Chief Gerald Smith
Richmond Police Department
Interim Chief Hector Velez
Prince George's County Police Department
Interim Chief Robert Contee
Metropolitan Police Department
District of Columbia
Acting Chief Charles Penn
Arlington County Police Department
Chief George Swartwood
Martinsburg Police Department
Sheriff Jeffrey Gahler
Harford County Sheriff's Office
Sheriff Michael Chapman
Loudoun County Sheriff's Office
Chief Howard Hall
Roanoke County Police Department
Chief Terry Sult
Hampton Police Division
Interim Chief Kenneth Ferguson
Hampton Police Division
Virginia