2023 HIDTA Prevention Summit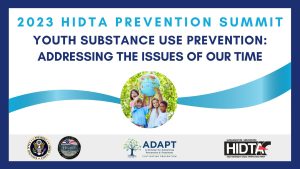 The purpose of the 2023 HIDTA Prevention Summit was to address complex prevention issues of today with a focus on integration of activities focused on current and emerging substances into a comprehensive strategy.
Attendees took away new knowledge and two new tools to help them address today's prevention challenges brought on by the ever-changing substance use landscape. The   following two tools can be found on ADAPT's Prevention Intervention Resource Center:
Developing a Comprehensive Community-Based Prevention Strategy
Sharing Substance-Related Information with Youth 11-18: Integrating the Best Available Evidence to Prevent Unintended Harm
All recorded webinars are available for on-demand viewing on the ADAPT YouTube Channel.
Download the Summit Resource Supplement Here