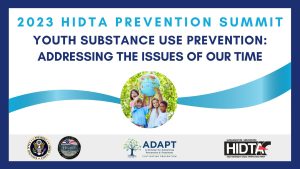 The purpose of the 2023 HIDTA Prevention Summit is to address complex prevention issues of today with a focus on integration of activities focused on current and emerging substances into a comprehensive strategy.
Participants will learn how approaches to prevention must take into consideration the ever-changing substance use landscape while grounding in the best available evidence of today. Critical considerations will be shared for why we must make prevention a priority and work toward comprehensive community-based prevention strategies that fit local contexts and the prevention needs of our time.
Goals:
Present advances in substance use prevention science, policy, and strategies in the context of national substance threats.
Describe the core principles of prevention, how prevention approaches have evolved, a global perspective of substance use prevention in youth, and how we can apply this information to achieve effective prevention.
Examine evidence-based considerations for strategically sharing drug information while protecting from harm.
Share approaches for how to prioritize prevention in communities while ensuring fit with the prevention needs of our time and local contexts.
Discuss the Office of National Drug Control Policy's guidance for building and navigating substance use prevention strategies in organizations and communities.
Earn up to 6 FREE Continuing Education Hours
Register through the Zoom link at the bottom of this page.