Once a W/B HIDTA Program Manager, Glenn Fueston Returns Now as the Vice Chairperson of its Executive Board, Promoting Multi-Agency Collaboration and Leveraging Resources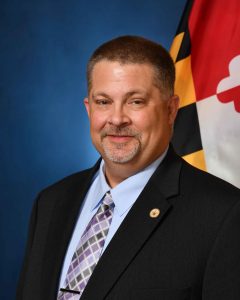 To welcome the Washington/Baltimore High Intensity Drug Trafficking Area (W/B HIDTA) Executive Board's newly-elected leadership, we sat down with its vice chairperson Glenn Fueston.
Following his long and successful career in criminal justice and crime prevention administration, Glenn Fueston has re-joined the W/B HIDTA Executive Board as its vice chairperson. Currently, Mr. Fueston is the executive director of the Maryland Governor's Office of Crime Prevention, Youth, and Victim Services. In his term of office, he has made remarkable accomplishments in creating and supporting innovative programs that are designed to improve victim services, disrupt violent crime, and address a range of issues, including human trafficking and adverse childhood experiences.
Mr. Fueston began his career in 1999 at the W/B HIDTA as its program manager for computer training, and then became associate deputy director of its Intelligence and Information Sharing Initiative. He left the W/B HIDTA after 17 years when he was asked to serve in the Hogan Administration.
Mr. Fueston recalls that his inspiration for joining the W/B HIDTA was the mission advocated by W/B HIDTA Executive Director Tom Carr. He related, "I really enjoyed the mission that Tom Carr brought to the community … the true work and the collaboration that Tom communicated across the entire region was really what attracted me to the organization."
With over two decades of experience in multiple leadership roles, Mr Fueston's expertise as a strategic policymaker and thought leader will be essential in furthering the unified approach necessary for achieving continued success at the W/B HIDTA. Additionally, his extensive experience in developing and implementing programs has resulted in the creation of many successful initiatives across Maryland, including Project Bounce Back, a $25 million public-private partnership to help Maryland youth recover from the devastating impacts of the COVID-19 pandemic, and the Maryland Heroin Coordinator Program, which has identified 81 drug trafficking organizations, and made over 10,000 treatment referrals for those in need.

Mr. Fueston noted that some of the models used by his organization are similar to that of HIDTA initiatives. He related, "We have the Maryland Criminal Intelligence Network (MCIN), which is a model very similar to the HIDTA initiatives. There are 13 of them across the state, and they are out there looking for drug trafficking, money laundering, human trafficking, and firearm trafficking organizations. Then we've funded Boys and Girls Clubs in those same neighborhoods." Mr. Fueston acknowledges that the removal of a drug trafficking organization leaves a vacuum in a community in which kids have looked up to those gang members as protectors and providers. He stated, "Our thought is to get right in behind them (MCIN teams) so that the kids can go to that safe spot and have a positive influence instead of going to the next gang."
The MCIN's successes include:
Rescue of 127 human trafficking victims
Disrupting/dismantling of 1,176 criminal organizations
Seizure of 509 kilograms of illegal drugs, 975 firearms, and over $17.5 in drugs and assets
Mr. Fueston believes that the lessons he has learned over the course of his career will be vital in leading the W/B HIDTA Executive Board with DEA Special Agent in Charge Jarod Forget. He stated, "What we're looking at is a multi-agency collaboration and going after the violent repeat offenders to correct and dismantle violent organizations." He related, "Building upon my passion for data and utilizing data for data-driven decisions, we will continue to use management processes within the W/B HIDTA to identify problems, develop programs that actually have an impact, and measure the results."
Applying many of the lessons that he has learned over the course of his career, Mr. Fueston believes, will be vital for a successful year helping to lead the W/B HIDTA Executive Board. Mr. Fueston stated, "We have to work together, collaborate, listen to people who have different opinions than us, look for the commonality, and then push on the same fly wheel to solve a problem."
A native of Myrtle Beach, SC, Mr. Fueston earned dual bachelor's degrees in psychology and communications from Salisbury University, and a master's degree in human resource management from Towson University.