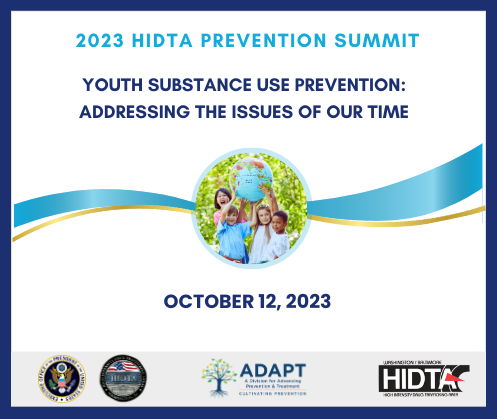 2023 HIDTA Prevention Summit Advances Knowledge & Shares New Resources to Support Communities in Addressing the Everchanging Substance Use Landscape
"The level of information from a wide array of presenters was simply phenomenal! I am new in the field, so having the opportunity to hear from so many diverse but unified voices was deeply impactful." –Participant testimonial
Over 1,100 people participated in the 2023 HIDTA Prevention Summit to prepare them in addressing the complex prevention issues of today.
Titled "Youth Substance Use Prevention: Addressing the Issues of Our Time," this year's Summit delivered on its goals to advance knowledge and share resources to support communities in addressing the ever-changing landscape of substance use.
Two key messages were threaded throughout the Summit presentations
     1) Ground prevention activities addressing current or new substances in a comprehensive strategy and,
     2) Thoughtfully develop and evaluate prevention activities using the best available evidence to prevent unintended harm.
"The presenters were fantastic, and the way the programs were organized felt like each built off of the last." –Participant testimonial
Community, state, national, and international prevention experts and practitioners delivered presentations to strengthen understanding of the need to prioritize substance use prevention and integrate prevention activities into a comprehensive community-based strategy. Key concepts were presented and integrated into a shared "way of thinking" about prevention among the presenters. Concepts were brought to life in a case study led by the Colorado Attorney General's Office.
ADAPT releases two new tools
Support for Summit participants beyond the event is important to ADAPT, so two new tools were released for participants to aid them in integrating what they had learned at the Summit into their own work.
1) Developing a Comprehensive Community-Based Prevention Strategy. The purpose of this brief is to 1) summarize key lessons learned from prevention science that highlight what works to prevent substance use and promote positive development in youth, and 2) present a five-phase approach to support the development and implementation of a comprehensive community-based prevention strategy.
2) Sharing Substance-Related Information with Youth 11-18: Integrating the Best Available Evidence to Prevent Unintended Harm. This resource provides evidence-informed considerations for how to share substance-related information with youth 11-18 grounded in the science of social norms to reduce the risk of unintended harm.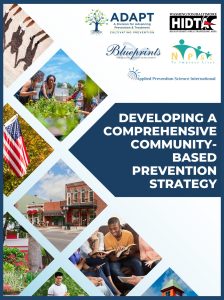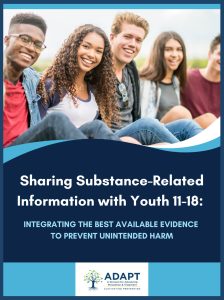 Access both tools under the 'Tools Released by ADAPT' heading @ the Prevention Intervention Resource Center
Summit participants' responses were overwhelmingly positive 
Participants described a "reigniting of passion for prevention science" that left them "walking away with a sense that preventionists are standing together once again and WILL make a difference."
Summit information was easily understood by participants and promoted learning along with confidence in applying new knowledge. A striking 100% of Summit participants who completed the post- Summit evaluation walked away having learned something new. 77% left ready to apply what they had learned while 80% described they would be using the newly released tools in the coming weeks! Participants described the concepts and strategies presented as highly relatable to their work (endorsed by 96%), translated into familiar language (95%) and presented in digestible ways (95%).
Importantly, 72% of Summit participants left the event feeling more CONFIDENT in knowing how to share substance-related information with youth while preventing untended harm, one of the key goals of this Summit.
One message resonated across the day-long event:
THE TIME TO PRIORITIZE PREVENTION IS NOW!
Next Up! In the coming months, ADAPT will host a series of webinars and workshops offering additional guidance on the strategies presented during the Summit. Topics for upcoming events include:
Developing a comprehensive community-based prevention strategy
Sharing substance-related information with youth
Adapting prevention content across developmental stages
Ways of engaging youth in prevention
In case you missed it, access all Summit recordings and resources HERE.
Subscribe here to receive announcements for these events. As always ADAPT is committed to supporting further knowledge and skill development in prevention communications within the HIDTA communities.