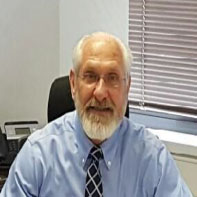 HIDTA Highlights—A Career Filled with Public Service—Deputy Director for Law Enforcement Gary Hartman
Deputy Director for Law Enforcement Gary Hartman started his public service career in 1968 as a U.S. Marine. He served four years, including a tour of duty in Viet Nam. He enjoyed a 33-year career of diverse federal and state law enforcement experience, and continues today providing administrative supervision and guidance to 45 law enforcement initiatives that involve over 600 officers and agents participating in the Washington/Baltimore High Intensity Drug Trafficking Area Program (HIDTA).
As a special agent with the U.S. Drug Enforcement Administration (DEA) for 22 years, Hartman worked in Baltimore, Honolulu, Bogota, El Paso, Washington, DC, and DEA Headquarters. He served in numerous positions, including street agent, group supervisor, staff coordinator, and agent-in-charge of the Baltimore District Office until he retired in 2006. Prior to his work with the DEA, Hartman served 11 years with the Maryland State Police, including seven years as a detective investigating white collar crime and political corruption while he worked in the Investigation Division and for the Maryland Attorney General's Office, and four years as a uniformed trooper.
From 2006-2016, Hartman worked as a curriculum project manager for the U.S. State Department, Office of Anti-Terrorism Assistance. In this capacity, he developed and managed a portfolio of law enforcement and intelligence training courses for executive-level police leaders from partner nation countries across the globe.
The benefits of the collaboration which the HIDTA facilitates is evident, Hartman says, in the "…systems developed, such as Case Explorer for deconfliction, to ensure investigators can talk with each other to avoid duplication of effort and the possibility of working each other's cases." He explains, "Case Explorer provides a platform for case management and increasing officer safety." Hartman also sees the development and implementation of the W/B HIDTA's Overdose Mapping Application System (ODMAP) as another way to facilitate information sharing and increased partnership between public safety and public health professionals.
The W/B HIDTA also brings organizations across jurisdictions together through its executive board and many initiatives, both within our HIDTA region, and nationally. One of the biggest benefits of participating in the HIDTA and working in partnership is that, Hartman relates, "HIDTA is trusted by state and local government entities, including law enforcement agencies and boards of health; and it is looked upon as objective and apolitical. We could not be as successful as we are in achieving our mission if we didn't appreciate and work every day to earn that respect."
We are thankful that Deputy Director Hartman chooses to use his decades of experience and the skills he has honed in a variety of law enforcement positions at the W/B HIDTA. His dedication to the HIDTA Program's vision and mission are evident and have resulted in measurable success.