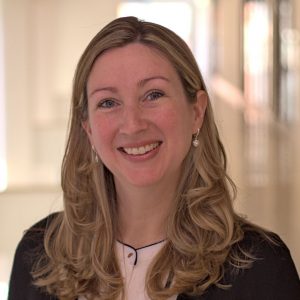 Dr. Lora Peppard: Achieving Innovation and Success with W/B HIDTA Treatment and Prevention Programs
As part of our new "HIDTA Highlights" blog series, we sat down with Dr. Lora Peppard, the W/B HIDTA's Deputy Director of Treatment and Prevention, to learn more about her and discuss her perspectives on the W/B HIDTA. Dr. Peppard has made extraordinary accomplishments during her time at W/B HIDTA, taking the field of treatment and prevention to new heights and forming essential partnerships.
Dr. Peppard's career has been unconventional, deeply rewarding, and focused on purpose. Her journey began as a young international business major working in Germany, and quickly transitioned into the field of psychiatric nursing, to which she felt a calling. As a licensed psychiatric nurse practitioner, Dr. Peppard has 15 years of experience working with a variety of populations in emergency, inpatient, and outpatient settings. She obtained her Doctor of Nursing Practice from Columbia University as a new clinician, and later pursued a Ph.D. at George Mason University.
During her 10-year term as an associate professor at George Mason University, Dr. Peppard secured and led multiple federally-funded grants focused on behavioral health and substance use prevention integration across the state of Virginia.
In June 2018, Dr. Peppard met W/B HIDTA Executive Director Tom Carr when they both sat on a criminal justice and treatment panel.Through their discussions that day, Dr. Peppard learned about the support the W/B HIDTA provides for prevention and treatment services. Within a year, she began serving as associate deputy director for treatment and prevention at the W/B HIDTA, and was promoted to deputy director in January 2020.
Dr. Peppard recently launched the W/B HIDTA's "A Division for Advancing Prevention and Treatment" (ADAPT), which provides technical assistance to HIDTA programs across the county on substance use prevention programming. National HIDTA Program discretionary funds support this effort.
The opportunity to affect regional substance use prevention and treatment programming, and to further expand her work in behavioral health and substance use integration models initially drew Dr. Peppard to the W/B HIDTA. Dr. Peppard related, "Over the last decade of my career, I have told myself I would only go where the need is and use the skill set with which God has blessed me to serve those in greatest need. W/B HIDTA provides population touch points across the substance use continuum and emulates systems thinking in its approach. That's where I need to be."
Dr. Peppard believes that the W/B HIDTA is a great organization, as "It would be hard to find a better culture, environment to support big ideas, or more amazing staff than what we have at the W/B HIDTA." She reflects that W/B HIDTA Executive Director Carr has created a healthy culture for sharing ideas and functioning collaboratively and consistently as a team. W/B HIDTA staff members appreciate the unique skill sets and roles within the organization and band together to meet the region's law enforcement, drug intelligence, and treatment and prevention needs. W/B HIDTA also serves as a role model for public health and public safety collaboration, in that W/B HIDTA staff members who work in these two disciplines are very intentional about drawing each other in to discuss current projects and brainstorm new ideas.
Collaborating with the W/B HIDTA is beneficial, Dr. Peppard stated, because the "W/B HIDTA offers a well-rounded public health/public safety perspective, and makes a wonderful partner in its communities. Staff members are very resourceful. If they don't have the resources, they'll try to connect you with resources. If resources don't exist, they'll consider creating a solution for you if others could also benefit."
Dr. Peppard sees a promising future for the W/B HIDTA. She related,
I see a future where 1) the impact of law enforcement, drug intelligence, and substance use treatment and prevention in our region is nothing less than extraordinary; 2) the partnership between public health and public safety is truly synergized with demonstrated effectiveness; and 3) thriving communication channels and feedback loops exist within our region that support continued advancement in strategies for reducing the supply and demand of substances in our communities.
We're thankful for Dr. Peppard's dedication and tireless efforts to establish the W/B HIDTA as a national leader in treatment and prevention.
To learn more about W/B HIDTA treatment and prevention initiatives, click here.
To learn more about ADAPT, click here.