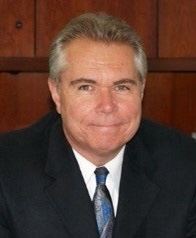 The W/B HIDTA Celebrates the Life and Accomplishments of Don Kennedy, Leading Advocate for Deconfliction, Change Agent for Information Sharing and Criminal Intelligence Across the Country
Don Kennedy, friend, colleague, and former Regional Information Sharing System-New England State Police Information Network (RISS-NESPIN) director, has passed away. As one of the leaders in developing and supporting deconfliction and systems integration, his work helped to direct the connections that formed the three Nationwide Deconfliction Systems. Don, Washington/Baltimore HIDTA (W/B HIDTA) Director Tom Carr, and former Chicago HIDTA Director Kurt Schmid traveled across the United States to educate the law enforcement community on the functionality and importance of deconfliction for officer safety and increased information sharing.
W/B HIDTA Director Tom Carr stated, "My prayers go out to Don's family. He was a great friend and ally who will be missed."
Don started his career in law enforcement in 1974 with the Rhode Island State Police. After retiring as a captain, he became the director of NESPIN, leading by example and serving as a mentor to many. The W/B HIDTA staff is keeping Don's family and friends in their thoughts.