Washington/Baltimore High Intensity Drug Trafficking Area-Sponsored Multi-Agency Drug Task Force Seizes Methamphetamine, Fentanyl, Heroin, Firearms, and Cash in Metropolitan Washington, DC-Based Case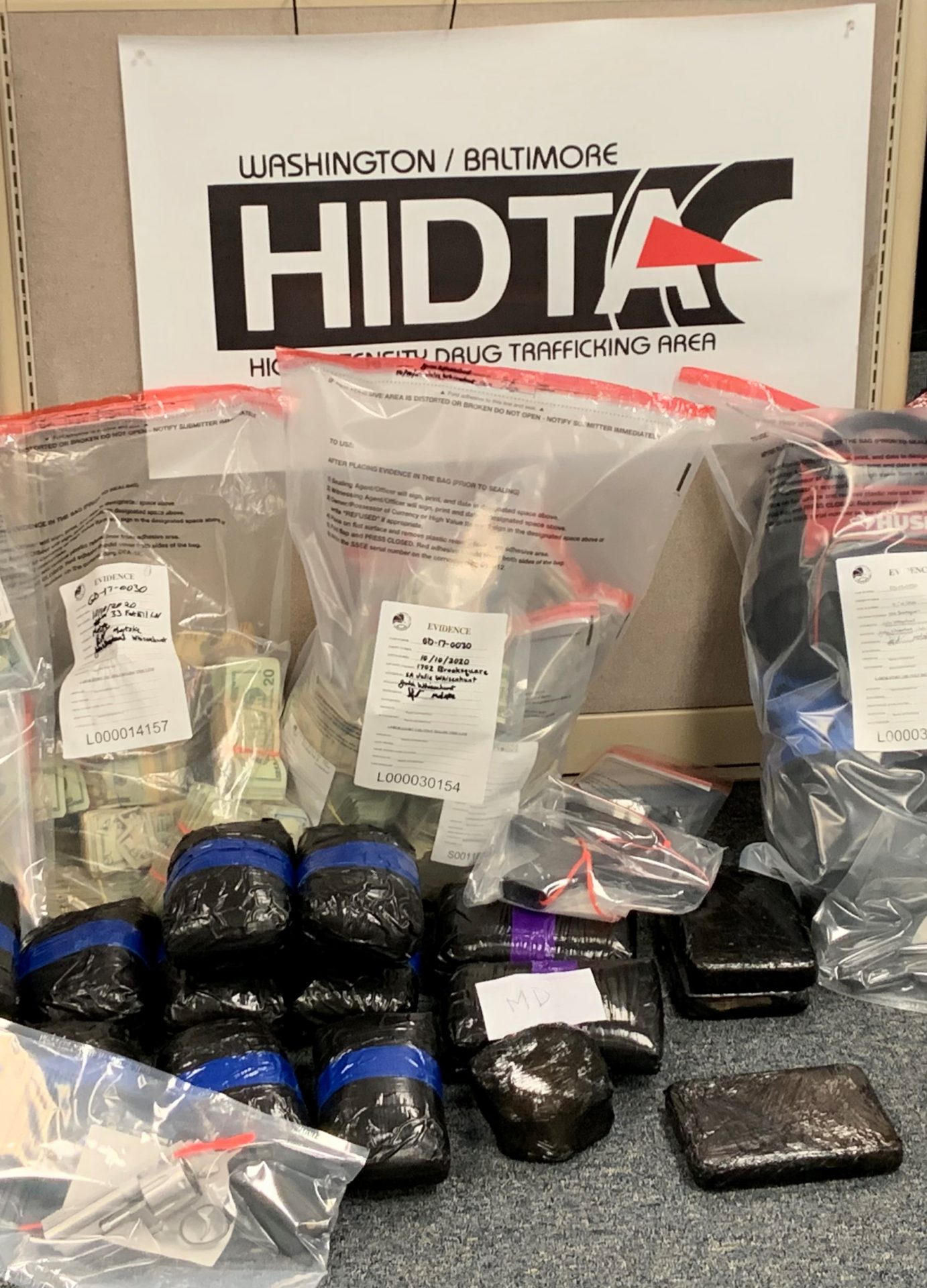 A multi-agency task force sponsored by the Washington/Baltimore High Intensity Drug Trafficking Area (W/B HIDTA) and supervised by the U.S. Drug Enforcement Administration successfully intercepted a shipment of 20 pounds of methamphetamine, five kilograms of fentanyl, one kilogram of heroin, and 20.000 pills suspected of containing fentanyl in early October. Surveillance of the investigation's targets and two vehicle stop resulted in these seizures.
While Maryland Transportation Authority Police (MTAP) officials stopped one suspect vehicle, additional MTAP officials attempted to stop another vehicle, which immediately fled the area. At the request of the W/B HIDTA-sponsored task force, U.S. Park Police air support personnel deployed to assist in locating the vehicle. The air support personnel located and observed the vehicle stop in a residential area in Mount Rainier, Md. The suspect in the vehicle then exited and fled on foot with the bag containing his drug shipment. The W/B HIDTA-sponsored task force and its law enforcement partners located and arrested him in the backyard of a Mount Rainier home, and seized his drug-filled bag that he had hidden in a hot tub.
At the same time, another suspect in the investigation entered the vehicle that had stopped in Mount Rainier. He continued fleeing until he was involved in a traffic accident in Washington, D.C. U.S. Park Police officials then took him into custody. In connection with his arrest, the suspect assaulted a police officer and was found to possess a distributable amount of controlled substances. Consequently, he was charged with state drug trafficking violations and Assault on a Police Officer violations.
The W/B HIDTA-sponsored task force and its law enforcement partners then executed four search warrants in Oxon Hill, Md, Capitol Heights, Md., and Indian Head, Md. In connection with these search warrants, the multi-agency collaborative efforts resulted in the seizure of three handguns—one stolen and one with an obliterated serial number. In addition, the investigators seized approximately $250,000 in U.S. currency, high-end jewelry, and amounts of suspected heroin.
The strength of the HIDTA program lies in leveraging resources and facilitating collaboration among Federal, state, local, and tribal law enforcement personnel and across jurisdictional boundaries. The W/B HIDTA task force acknowledges the following agencies for their assistance and support in this ongoing investigation:
Alexandria (VA) Police Department
Arlington (VA) County Police Department
Fairfax (VA) County Police Department
Charles County (MD) Sheriff's Office
Loudoun County (VA) Sheriff's Office
Maryland Transportation Authority Police
Mount Rainier (MD) Police Department
Prince George's County (MD) Police Department
U.S. Drug Enforcement Administration Baltimore District Office Group 56
U.S. Drug Enforcement Administration Special Operations Division
U.S. Drug Enforcement Administration Washington Division Office Groups 10, 11, 42, 43, Air Wing, and Tactical Diversion Squad
U.S. Park Police