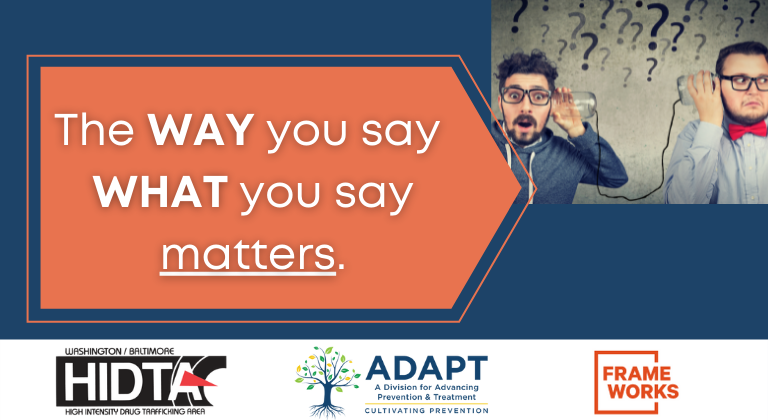 ADAPT Prepares Prevention Professionals to Integrate Communications Science into Their Work through "Framing"
By Dr. Patty Ferssizidis and Dr. Lora Peppard
Just this month, the W/B HIDTA's A Division for Advancing Prevention and Treatment (ADAPT) concluded its annual winter campaign, which focused on building fundamental skills in framing substance use prevention communication. Framing as a communications strategy relates to the choices we make in what we say and how we say it:
What we emphasize
How and what we explain
What we leave unsaid
The campaign was delivered in partnership with The FrameWorks Institute, a research think tank in Washington, DC, which uses rigorous social science methods to study how people understand social issues.
Helping Professionals Create More Effective Substance Use Prevention Messaging
The 2022 Framing Fundamentals Campaign, designed for substance use prevention professionals, introduced participants to what framing is, why it matters, and useful strategies for:
Countering misunderstandings and misconceptions about substance use and prevention efforts
Helping messages get through as they were intended to be understood, and
Shaping thoughts and behaviors by enhancing and shifting attitudes.
A two-pronged approach was utilized to promote learning, application, and skill development. Over the course of eight weeks, all participants received 10 framing tips via email and/or social media to introduce essential framing tools and provide guidance on how to apply them. Participants were also invited to register for three hands-on workshops in which Dr. Nat Kendall-Taylor, chief executive officer of The FrameWorks Institute, led them through a deeper dive into the campaign concepts and tools and provided multiple opportunities for practice and feedback.
Campaign Effectiveness: "It helped me understand how to better communicate in an effective manner."
Participant feedback on the campaign was overwhelmingly positive! The campaign was disseminated to over 3,700 of ADAPT's followers, including HIDTA prevention and Overdose Response Strategy representatives, drug-free community coalitions in HIDTA communities, National Guard Counterdrug staff, and other prevention professionals in HIDTA communities. Over 273 prevention professionals participated in the workshop series, with between 145-185 viewers having tuned in for each workshop.
For most participants, the framing material presented was entirely new to them, with 87% of people describing that over 50% of the information they learned represented new knowledge. It was very clear that the campaign addressed gaps in communications science training for many prevention professionals, and generated a deep respect for how these strategies could enhance the work they are doing in HIDTA communities. One participant commented, "WOW it is all so good.  I also am just in awe of how difficult this work is and can't believe the amount of work we have to do as a field."
A number of other participants resonated with this new perspective around what is effective messaging in the field of substance use prevention, and found it especially useful to have experienced "the entire mind-shift of what a good message should include" and "strategies to begin adapting into our messaging that will help, rather than inadvertently hinder our efforts to make effective change."
Participants were highly appreciative of the care taken to ensure that the workshop was engaging, featured content that was relatable in both language and concept, and that concepts were broken down into digestible bits of information. Participant comments on what they believed to be most useful included:
"The workshop was very engaging and relatable."
"The way information is broken down and explained."
"We were provided the opportunity to make it relevant to our agency. "
"Our job requires that we share information about the benefits of tobacco cessation with the community and health providers, knowing how to frame information so that it is credible and digestible is important to us."
Carrying it Forward
A striking 98% of workshop participants finished the series with an intention to integrate framing tools into their prevention communication moving forward. To prepare participants for this task, the workshop intentionally built in opportunities to practice and apply framing strategies. Participant feedback on this task included:
"The workshop was very well planned. Each activity built toward the final assignment."
What was most useful was "the immediate practical application of the concepts presented."
One workshop participant used the tools learned at the workshop to reframe the headlining statement on her coalition's website, transforming the coalition's description from being primarily informational to being value-based, and appealing to a collective versus individual mindset.
BEFORE:
The coalition exists to empower the youth of this County to live substance free lifestyles through education and advocacy. We use Community Anti-Drug Coalitions of America's (CADCA's) evidence based Strategic Prevention Framework (SPF) to create community level change through education, community collaboration, prevention initiatives, and environmental strategies of tobacco, alcohol, vaping, and other substances throughout the County.
AFTER:
The Coalition empowers youth to achieve their fullest potential. Through education we have the power to reduce youth alcohol, marijuana, nicotine, and other drug use in our County. Together we can provide students, parents, and educators resources and information to create community level change.
ADAPT would like to publicly thank Dr. Nat Kendall-Taylor with The FrameWorks Institute one last time for his partnership and expertise in generating the campaign content, and leading the workshop series. To access ADAPT's email/social media campaign materials, please click here.
Next Steps
Over the next few months, ADAPT will develop a variety of resources to support the continued study and integration of effective prevention communication strategies by substance use prevention professionals in HIDTA communities. Subscribe here to receive notifications on these resources and other ADAPT webinars, products, and events.