The W/B HIDTA's Investigative Support Center–Providing Superior Analytical Service to Drug Law Enforcement Officers Through the Use of Technology
W/B HIDTA analysts achieve success through technology-assisted case development and management with a focus on officer safety.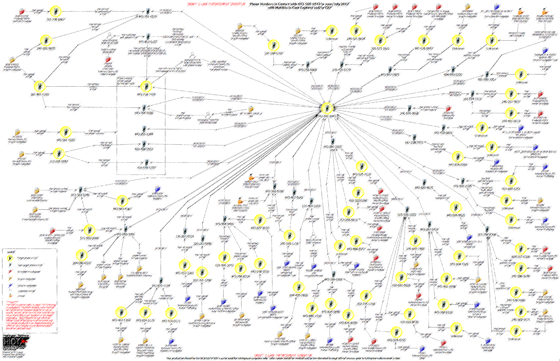 The W/B HIDTA Investigative Support Center (ISC), through its many human and technological resources, provides exceptional analytical services to drug law enforcement in the Washington/Baltimore region. The ISC's goals are to:
Promote officer safety by providing event and case deconfliction services


Provide superior case support and case development services


Facilitate information sharing among law enforcement, drug treatment, and prevention professionals


Share criminal information and intelligence with other HIDTAs


Produce strategic intelligence for decision makers


Support special projects
The ISC is an established leader in intelligence analysis and innovation. It provides analytical support for developing leads to further an investigation, and evidentiary products that are required for successful prosecution. The ISC is responsible for:
Developing tactical, operational, and strategic intelligence to support ongoing investigations
Identifying drug trafficking and money laundering organizations
Helping to reduce drug and gang-related violence.
ISC analysts use various intelligence techniques and technologies, in addition to examining numerous data sets simultaneously, to produce intelligence products. ISC personnel also monitor drug-related threats, forecasts, and trends so that the ISC serves as a hub for information sharing and coordination in the Washington/Baltimore region. Additionally, ISC staff members conduct predictive analyses to assist the treatment community in identifying those at highest risk of overdosing.
In 2019, the ISC provided analytical support for 339 cases and produced 116 intelligence profiles for law enforcement.
A current case involves a broad criminal network spanning multiple jurisdictions that is suspected of trafficking heroin, fentanyl, and other dangerous substances. Through the use of W/B HIDTA information databases, a county heroin coordinator analyst was able to share records that led to numerous links to previously-unrelated cases. Additionally, W/B HIDTA-funded analysts have identified a further association with 26 unique drug investigations across four different Maryland counties through link analysis.
ISC Technologies Improve Operational Effectiveness and Officer Safety
The use of multiple technologies helps to make the important work of the ISC possible. In the case described above, the W/B HIDTA's Communications Analysis Portal (CAP) was instrumental in providing the links between overdoses and ongoing investigations. CAP is a data deconfliction tool that performs fast and precise phone number deconfliction. It has the ability to upload different types of files and make connections with other cases, within agencies' jurisdictions or in areas that would otherwise be unknown. Once a phone number(s) is matched in the system, case officers and analysts are immediately notified by email. ISC analysts are available to provide case support to all CAP users to help interpret large amounts of phone data. 
Case Explorer (CE), developed by W/B HIDTA leadership, is a nationally-recognized, web-based target/data and event deconfliction tool. Event Deconfliction is the process of determining when law enforcement personnel are conducting an event in close proximity to one another at the same time. Events include law enforcement actions such as raids, undercover operations, surveillance, or executing search warrants. When certain elements (e.g., time, date, and location) are matched between two or more events, conflict results and officer safety may be jeopardized if the deconfliction is unresolved. Immediately notifying the affected agencies or personnel regarding the identified conflict therefore increases both officer safety and operational effectiveness.

Target/Investigative Data Deconfliction is the process of determining if personnel from a law enforcement agency are conducting an investigation of an active/open target that involves the same investigative data. When investigative elements match, immediate notification is made to the affected agencies or personnel regarding the identified conflict, possibly increasing interagency collaboration and operational effectiveness. By way of example, recently, Maryland homicide detectives using CE found that their suspect was under investigation for drug trafficking in another region of the country.
Moving Ahead
The ISC prioritizes sharing resources and relevant information in the Washington/Baltimore region and beyond. It is now working with the New England HIDTA to expand the use of CAP to law enforcement in the northeastern United States. Additionally, new versions of CAP and CE, which include significant upgrades, will be released in early 2021. Stay tuned!
For more information on the Investigative Support Center and its resources, visit www.hidta.org/ISC.